POST TH01 & LEGION RIDERS
RIDERS CREED
RIDERS DEDICATE THEMSELVES TO THE SUCCESS OF THE AMERICAN LEGION. I KNOW THAT, THROUGH MY EFFORTS, I CAN MAKE A DIFFERENCE.
I ALONE AM RESPONSIBLE FOR MYSELF AND TO MY FELLOW RIDERS. I WILL CONDUCT MYSELF WITH THE HIGHEST DEGREE OF INTEGRITY AND HONOR.
DEEDS, NOT WORDS, CREATE CHANGE. I WILL PERSEVERE AGAINST ANY AND ALL THINGS THAT PREVENT MY SUCCESS. MY RESOLVE AND STRENGTH WILL OVERCOME ALL OBSTACLES.
EACH RIDER IS FIRST A MEMBER OF THE AMERICAN LEGION FAMILY. I WILL ACTIVELY PARTICIPATE IN AND WILLINGLY SUPPORT THEIR ENDEAVORS.
READILY WILL I JOIN OTHER RIDERS IN ACTIVITIES AND EVENTS WHICH SUPPORT OUR MISSIONS. I WILL DO SO GLADLY KNOWING I VOLUNTEERED TO BE AN AMERICAN LEGION RIDER.
SUCCESS IS THE ONLY ACCEPTABLE CONCLUSION. I WILL ALLOW NOTHING TO DISSUADE ME OR IMPEDE ME FROM SERVICE TO MY FAMILY, COMMUNITY, COUNTRY, AND ESPECIALLY OUR VETERANS.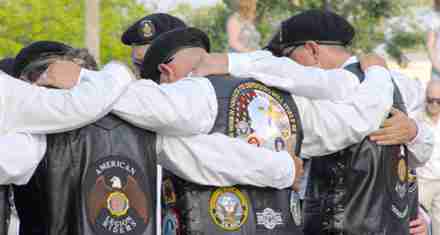 "AMERICAN LEGION RIDERS CHAPTERS ARE WELL KNOWN FOR THEIR CHARITABLE WORK, WHICH HAS RAISED HUNDREDS OF THOUSANDS OF DOLLARS FOR LOCAL CHILDREN'S HOSPITALS, SCHOOLS, VETERANS HOMES, SEVERELY WOUNDED SERVICEMEMBERS, AND SCHOLARSHIPS."
JOIN THE AMERICAN LEGION RIDERS
"WE ARE HERE TO SERVE VETERANS, THEIR FAMILIES, AND THE COMMUNITY. WE SUPPORT THE VISION AND MISSION OF THE AMERICAN LEGION THROUGH PROGRAMS AND ACTIVITIES."
CHECKOUT OUR GENERAL POINT OF CONTACT FOR ALL THINGS RELATED TO ARL THAILAND.